The two Asian neighbours India and Pakistan are not having good relations for a long time now, the reason being the hard stance taken by the Indian government in response to the anti-Indian activities carried out by Pakistan. The economy of Pakistan is also said to be in a disastrous state and its image all over the world is deteriorating day by day too.
Recently, a bus of Peshawar Bus Rapid Transit broke down in the middle of the road and the passengers were left with no other option than pushing it.
Take a look: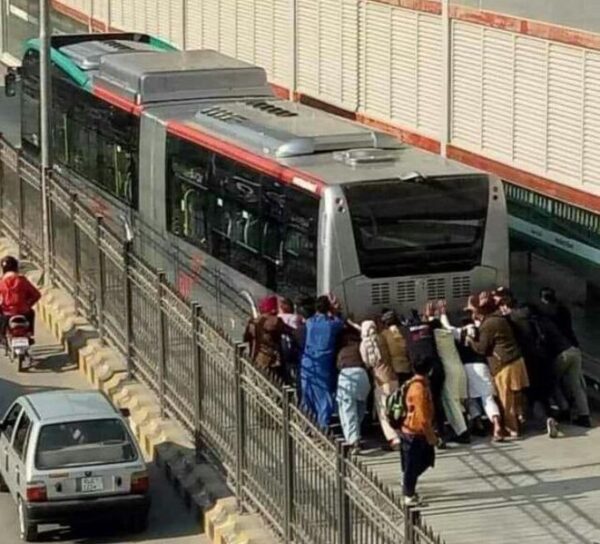 And now this! #TheBRTSaga is never going to end! pic.twitter.com/8D9K1oExab

— Ismail Khan (@IKPeshawar) November 20, 2020
Here is a video:
BRT Peshawar getting local help pic.twitter.com/H7w8XfVV5J

— Murtaza Ali Shah (@MurtazaViews) November 20, 2020
The Peshawar BRT is said to be a high-quality system in which a huge amount of money was spent but it has been in news for all the wrong reasons since its inception. Many accidents have taken place by the vehicles of BRT and a number of corruption allegations have also been leveled up. What made the matter worse is the fact that at least 5 buses have broken down till now since the project has been launched in the city.
A statement was issued by the TransPeshawar's spokesperson as per which a very small fault happened in the bus near the Adbara station and they had not only alternate buses for emergency situations but also had qualified engineers at various stations to take care of such an incident.
However, the Pakistani online users were not happy with the incident and they criticized the government of Khyber Pakhtunkhwa for not being able to provide good transportation system to the citizens of the city. This obviously gave enough fodder to netizens and Twitter had a field day after the videos and photos of this incident went viral.
Here are some of the selected reactions:
#1
Peshawar BRT is a true reflection of Naya Pakistan. دھکا-start pic.twitter.com/lts4rAuCwT

— Naila Inayat नायला इनायत (@nailainayat) November 20, 2020
#2
When transport service runs out of horsepower and requires manpower https://t.co/08LZBK1gaO

— Ali Gul Pir (@Aligulpir) November 20, 2020
#3
2020 be like…. pic.twitter.com/11wp4Llllv

— Maria Memon (@Maria_Memon) November 20, 2020
#4
BRT powered by manpower..real tabdeeli, who says our govt is not innovative pic.twitter.com/YVnuUomDQt

— Khawaja M. Asif (@KhawajaMAsif) November 20, 2020
#5
'Dhakka start': Passengers push Peshawar BRT bus after it breaks down https://t.co/IsTKS79c56

— Murtaza Ali Shah (@MurtazaViews) November 21, 2020
#6
Residents pay their tribute to the amazing services of BRT by giving ride to one of it's busses 🖤

Peshawar 2020 pic.twitter.com/fze9LBwV2r

— History Of Pakistan (@OldPakHistory) November 20, 2020
#7
Free fitness routines for peshawarites 👍🏼 #bravo #teampti #pti #brt #42yearschallenge https://t.co/QLC36jxSKw

— Fahad Marwat (@fahad_marwat) November 20, 2020
#8
It's not BRT (bus rapid transport) it's BDT (bus dhakha transport)… 😇😇😇 https://t.co/XudRkosPTd

— Waqar Hussain (@HussainWaqar057) November 21, 2020
#9
PTI kay 8 saal mein Peshawar Tariqi kartay kartay America say bhi aagay nikal gaya hay, yay Peshawar BRT ki bus nahi hay, yay NASA ka Rocket hay jis ko Awam dhaka laga rahi hay https://t.co/i5AMfKEZav

— بنٹو (@FactualPartisan) November 20, 2020
#10
— Farooq (@Farooq_____) November 21, 2020
#11
Peshawar BRT is promoting healthy lifestyles and fitness.

After all the chapli kebabs and charsi tikkas, the citizens of Peshawar need solid workouts.

You either burn calories or risk being burnt inside the bus as it catches fire!

The choice is yours! pic.twitter.com/zRE5doT9dt

— Uzair Younus عُزیر یُونس (@UzairYounus) November 20, 2020
#12
Yai govt dhakey sy b nhe chalney wali#BRT https://t.co/pR5CmmbsY0

— Adil Khan (@AdilBashir120) November 20, 2020
#13
Clean energy, Dhika start Rapid Trasnport. https://t.co/rdz01n6k3H

— Aimal khan (@aimalkn) November 20, 2020
#14
Mutiple benifits of the project #BRT
IT KEEPS YOU HEALTHY pic.twitter.com/tICiaha5ee

— Akbar Zada Yousaf Zai (@zada_zai) November 20, 2020
#15
Just another day of PTI's model project BRT Peshawar being awesome! pic.twitter.com/vaPlZy4n6w

— Maleeha Manzoor (@MaleehaManzoor) November 20, 2020
Poor passengers!!!!
Share Your Views In Comments Below